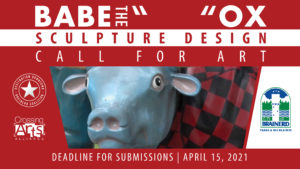 Brainerd, MN – The Destination Downtown Coalition, in partnership with the City Of Brainerd and The Crossing Arts Alliance, are bringing Babe the Blue Ox to downtown Brainerd! Nor-Son Construction has donated a Babe the Blue Ox statue that they've had at their Baxter office since 2008. After a successful fundraiser of donations from our community to secure that statue and address some much needed repairs, we are ready for the next step to find artists to design and paint the ox sculpture!
We want this to be a community project that adds to downtown Brainerd's uniqueness. The Crossing Arts Alliance will be putting together a panel to determine location/placement, finding great local artists, and jury the submissions, for who will be doing the honors of creating downtown Brainerd's latest attraction!
Open to all artists residing in Minnesota. Artists may submit up to 3 designs for consideration. Submitted designs should be family-friendly and aesthetically appropriate for display in public places. Some examples of the family-friendly criterion include absence of violence, nudity, bias and hate.
The artist chosen for this project will receive a $700 honorarium to help defray material costs and other expenses. Priming and sealing of the sculpture will be provided by the coordinators of this call for art. The artist will furnish all of the paint materials, and be responsible for the painting of the artwork.
Work will be juried by a committee consisting of the Executive/Artistic Director of The Crossing Arts Alliance, members of the Destination Downtown Business Coalition, employees of the City of Brainerd, and community members.
The deadline for submissions is April 15, 2021. The selected artist will have the month of May to work on and complete their design on the ox, and the finished piece will be installed in downtown Brainerd in early June.
Visit our website for the full submission info and rules, as well as an easy online submission form!
For more information contact Crossing Arts at 218-833-0416, info@crossingarts.org. Crossing Arts is a 501c3 nonprofit located in the heart of downtown Brainerd at 711 Laurel Street.