The weekly birding report for the Brainerd Lakes area is provided in partnership with Visit Brainerd and local guide and naturalist Judd Brink.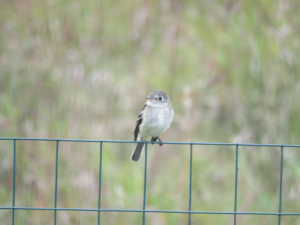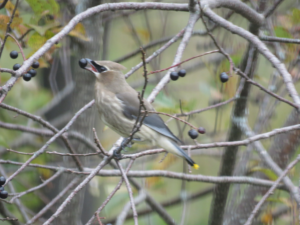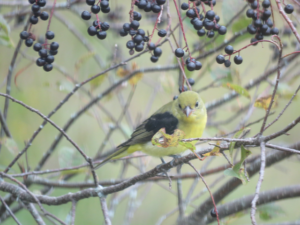 Pictured left to right: Least Flycatcher, young Cedar Waxwing and young Scarlet Tanager
Thanks to everyone who follows the weekly birding reports for the Brainerd lakes area and my birding adventures.
Birds observed this past week in the Brainerd Lakes area include: Bald Eagle, Turkey Vulture, Sharp-shinned Hawk, Great-blue Heron, Common Loon, Trumpeter Swan, Belted Kingfisher, Goose, Mallard, Woodduck, Ring-billed Gull, Common Nighthawk (300 birds on 9/1/19), Wild Turkey, Raven, Mourning Dove, Rose-breasted Grosbeak, Indigo Bunting, Oriole, Ruby-throated Hummingbird, Gray-catbird, Brown Thrasher, Towhee, Cedar Waxwing, Chipping Sparrow, Song Sparrow, Red-tailed Hawk, Pileated Woodpecker, Northern Flicker, Red-bellied Woodpecker, Eastern Bluebird, Northern Waterthrush, Scarlet Tanager, Great-crested Flycatcher, Phoebe, Eastern Wood-pewee, Red-eyed Vireo, Chestnut-sided Warbler, American Redstart, Nashville Warbler, Cardinal, Barn Swallow, Red-breasted Nuthatch, Sandhill Crane and Killdeer. Happy Birding!
One of the best fall birding spots for migrating raptors is Hawk Ridge in Duluth. The peak fall migration is from middle of September through the middle of October. Days with northwest winds offer the best viewing of large numbers of birds. The best day for the month of September was 9/4 with 11 species with a high count of 460 Bald Eagles. Each year Hawk Ridge has a fall festival with events and speakers this year the festival is on September 20-22. For more info on the Hawk Weekend Festival or just to follow the reports please visit their website.
A few local birding areas to check out include the Northland Arboretum, Crow Wing State Park and Crane Meadows National Wildlife Refuge.
I had a unique experience from my backyard deck on September 1 . . . within about 20 minutes I observed 300 Nighthawks in flight!
Please report any unusual birds to Judd Brink via email. Please include a photo and or a brief description in the email if possible.
Go birding today and use our birding kits which are available for your birding convenience during your stay in the Brainerd Lakes area. Find more information on the Bird Watching.