August 8, 2022: Brainerd Fishing Report: Trolling is Good Way to Tackle Multi-Species Fishing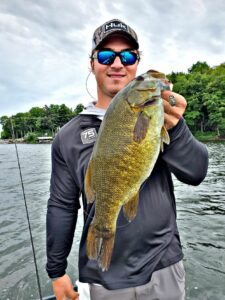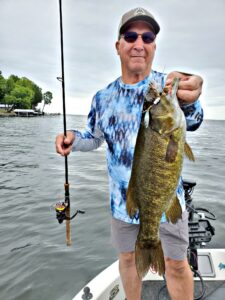 Brainerd, MN—Brainerd Lakes Area walleyes continue to frequent weeds on sandy flats (staying or roaming pockets), steep weedlines and on top or edges of mid-lake humps. We continue catching a ton of walleyes on a slip bobber/leech or jig/minnow combos. We've gotten fish rigging night crawlers (live or soft-plastic imitations); and using reaction-style lures (such as jigging raps or shiver minnows) to trigger more bites around hard bottom/sandy bottom areas. Look for walleyes in depths about 26-30 ft for high sun/midday periods (or 6-12 ft weeds) and 18-24 ft at low-light/windy/overcast periods. After dark, longline trolling shallow-running crankbaits (such as a Smithwick Rattlin' Floating Rogue) in 5-12 ft continues to produce walleyes of various sizes. If you're feeling adventurous, troll crankbaits over the basin for big suspended fish. We have been seeing panfish on weed flats/weedlines.
A good way to catch multiple species is trolling (.8-1.8 mph) weedlines and big weed flats with spinner rigs in 6-15 ft. Casting and jigging a 1/16 oz or 1/32 oz jig tipped with the tail half of a Mister Twister Sassy Stingum catches crappies and Rainbow Trout in inland lakes. Largemouth Bass have been active in weed flats and weedlines in 6-15 ft or deep weeds in 16+ ft; use Ned Rigs, drop-shots and top topwater frogs on thick weeds.
On Mille Lacs, target fish on transition areas where hard bottom and soft bottom meet in 24-30 ft, or edges of mud flats with a slip bobber and leech for walleyes. Slide on top of rock reefs in 8-16 ft and edges in 16-22 ft for smallmouth bass, search for big rocks and pockets of sand in rocky locations. Rainbow Trout and Tullibees have been active in mine pit/inland lakes (Crosby-Ironton Area), trolling deep (20-40 ft) during high sun or 10-20 ft during overcast, slip bobber/crawler, casting a Tungsten jig/soft plastic or jigging rap style lures are all producing fish!
Have fun, stay safe and Happy Hawg Hunting!
Brainerd Fishing Report provided by Dustin Monson – Hawg Hunterz Guide Service