This weekly fishing report features multiple lakes in the Brainerd Lakes Area located in central Minnesota. It's provided by Nate Berg Fishing Guides.
Mid Summer Fishing Remains Hot in the BLA
Walleyes, bass, pike, crappies, bluegills…it doesn't matter, they are all feeding, all active and all shallow and easy to target. I don't remember a year where we have had such great fishing in the Brainerd Lakes Area in the past 15 years. It is absolutely staggering how fast the actions is and how many lakes have this bite happening. I am not sure if its the slow blooming summer or the hot weather. Either way, it doesn't matter to me because it is a total blast. I am not just talking Gull or North Long, I am talking area wide crazy bites that doesn't have the slightest sign of slowing down.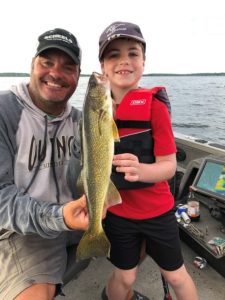 To say the Gull Lake bite is on fire may very well be an understatement. In my past few trips out there, which were 1/2 day trips, the walleye bite has been wonderful. The walleyes are set up in and just off the weed edge and can be taken several ways. As of late, the best bite has been trolling Salmo Rattlin' Hornet's. Fleet Farm has a great supply of them and their custom colors have been the ticket. Anything with metallic paint joined with blues or purples have been absolutely awesome. What I have found is if you can barely tick the weeds with your lure, your bites increase greatly. The key to this is using a good super line to be able to snap the lure out of the weeds. One more little trick that I have been doing with the Salmo's has been tipping the rear treble hook with the back 1/4 tail section of a night crawler. The extra action and scent has been increasing our bites.
The North Long walleye bite is also incredible. Pulling leeches behind spinners as well as 1/2 a crawler behind a harness. The key has been a #4 blade in natural colors in the 14-20 foot depths. Some fish are also being found a little deeper and live bait rigging with red tails and blown up crawlers has also been working well.
The walleyes are going crazy in the Motely area lakes. The weeds are the ticket and many techniques are working about equally. Spinners, slip bobbers, live bait rigging, casting plastics and trolling cranks are all producing. The one constant is the fact that they are relating to weeds fairly heavy.
Walleyes, whitefish, bass, pike and panfish are all going crazy on the Whitefish chain. The key is to be very versatile in your techniques as the bite seems to change as the time of day changes. Slow seems to be the ticket in the morning and a more aggressive technique seems to get reaction strikes as the sun gets higher.
Bluegill action is also on fire. Get on the tips of points as well as thick cabbage beds on inside turns. The best bet has been anchoring up and waiting a bit so the gills come into the boat. The shade of the boat acts in your favor and after 20 minutes, the biggest gills in the area will find the shade and become easy pickings. Night crawlers on a #6 Aberdeen hook below a medium sized split shot has been awesome as well as leeches and waxies on small jigs.
Crappies are still a little behind but if you have patience you can put together a really good bite. Trolling small tubes as well as Brainerd locally made Juice Baits "Rubber Chicken" in black has been very productive. We have been long lining 1/32 oz jigs and trolling them behind the boat at 0.8 mph in a snap, snap, pause action. Low light periods have been the best and both moving and evening have been about the same.
Bass are hungry and it really doesn't matter where you go. Docks, bullrushes, cabbage clumps, deep points, inside turns and rocks have all been producing well. It really doesn't matter what you throw at them right now, its all working. For docks, I love throwing a Juice Baits "Stick" hooked wacky style, cabbage clumps and deep points I have been throwing a mushroom head jig tipped with a 6 inch ribbon tail worm in red shad. On the rocks, I have been casting deep diving crank baits in crawfish colors. I dont think it really matters what you throw at them, its all working and working well.
Pike have slowed a little with the heat but if you slow down with some sucker minnows just off the weed edges, your bites increase.
I dont see the bite slowing in the Brainerd Lakes Area anytime soon. IF anything, as we move towards the fall, the bite will only get better. If you want to experience the best fishing the area has seen in many years, give us a call and we can put you on some awesome fishing.
Nate Berg
Nate Berg Fishing Guides
218-821-9488