Brainerd Fishing Report: Summer heat, thunderstorms and still catching fish!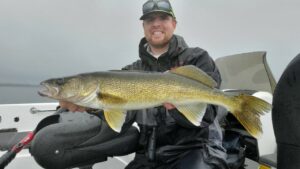 Summer heat, thunderstorms and still catching fish! The Brainerd Lakes Area has been seeing lake temperatures reach over 68-74 degrees Fahrenheit and the fish continue to feed. Walleyes have been cruising various depths, structure and cover; but best depths include 21-28ft for high sun/midday periods and 16-24ft at low-light/windy/overcast periods. After dark, longline trolling shallow-running crankbaits in 5-12ft continues to produce walleyes. Fish continue to frequent growing weeds on sandy flats, steep weed lines and mid-lake humps.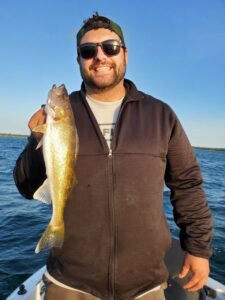 We have been catching most of our walleyes on a slip bobber/leech, slip/bobber shiner, or jig/minnow combos; and this is a good time to start rigging crawlers as well. Panfish continue to roam the shallows, as well as northern pike and bass. We have been doing well on multiple species by covering/trolling weed lines and big weed flats. Try trolling spinner rigs with artificial soft plastics or tipping small jigs with soft plastics or leeches/minnows/worms in 6-15ft. Largemouth Bass have been active in weed flats and weed lines in 6-15ft too, and can be caught in a variety of ways, but I have been enjoying the bite with a Mister Twister 5″ Comida (Wacky Rigged). On Mille Lacs, target fish on transition areas where hard bottom and soft bottom meet in 22-28ft, or edges of mud flats with a slip bobber and leech for walleyes. Slide on top of rock reefs in 8-16ft for smallmouth bass. We hope you enjoy the Fourth of July/Independence Day festivities in the Brainerd Lakes Area! Have fun, stay safe and Happy Hawg Hunting!