The Weather Has Heated Up But So Has the Fishing in Brainerd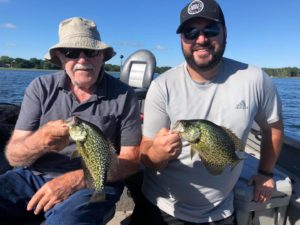 The weed walleye bite is in full swing and can be found off the weed drops in 11-17 feet of water. A wide variety of options have been working but trolling rattling crank baits that can tip the top of the weeds have been working the best for getting reaction strikes.
Large-mouth and small-mouth action is in full swing with them both being in mid summer patterns. Top-water lures both early and late as well as under docks and off deep points mid day have all been working well.
Pike remain active all day on musky jerk baits and big spinner-baits. Bluegills and crappies are both in their mid summer patterns with crappies being more active on low light periods and bluegills biting all day.
Nate Berg Fishing Guides
218-821-9488