Fishing Continues to Pick-up in the Brainerd Lakes Area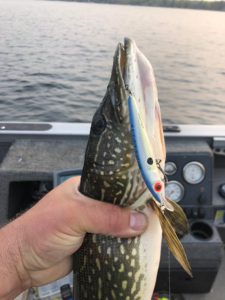 The fishing is really picking up in the Brainerd. Walleyes are still shallow on most bodies of water and feeding heavy. Look for sand to gravel transitions in the 8-12 foot marks as well as new cabbage beds. Bobbers and leeches, jerk baits and plastics are all working well but don't be afraid to put shallow diving crank baits behind a planer board. The night bite is still hot on Gull, North Long and Edwards. Trolling flats in the 5-10 foot depths at 1.1 to 1.6 mph has been the best.
Bluegills and crappies are still active and can be caught in various depths. Bluegills have begun their spawning process on smaller lakes and the bigger lakes shouldn't be far behind. Please use selective harvest.
Pike are still very active and have moved onto the deeper edge of shoreline breaks. Trolling musky jerk baits or suckers are both producing good numbers and size.
Most bass are done with the spawn and can be found under docks as well as weeded inside turns and points.
Nate Berg
Nate Berg Fishing Guides
218-821-9488