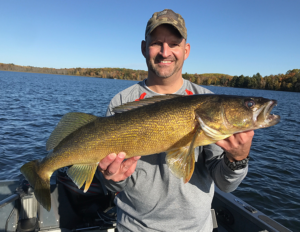 Gull Lake – North Long Lake – Smaller Lakes
Fishing is Changing Daily in the Brainerd Lakes
About the only thing consistent in the Brainerd lakes when it comes to fishing is change…and that is a good thing. We are finally getting back to normal seasonal fish patterns after the wild spring. Be very open minded when it comes to fishing because what you find today most definitely has a good chance of being different tomorrow but don't worry, that will soon change to more consistent fish patterns.
It has been a weird year to say the least. I can't believe that we are in the first full week of June and still finding the biggest male crappies in the lake still on spawn beds and the biggest females close by ready to drop their eggs. As of Wednesday, we were finding water temps in the middle 60s and the crappies still not done. That is going to happen this week but by now we should be catching post spawn crappies on inside turns of weed beds.
In most lakes that have them, the small-mouth have had a little better success at the spawn than the crappies and have moved off into the post spawn patterns. Large-mouth in most lakes are finally starting to set up spawn bed and the bluegills are itching closer tot the shorelines and in some cases actually started to set up their honeycombs.
Gull Lake is still producing a good number of walleyes in several different patterns. Look to find most of the fish still fairly shallow in the 7-14 foot ranges. The best techniques have been a jig with a spot tail, half a crawler or leech, slip bobbers with leeches or minnows as well as trolling cranks in the same locations. Some fish are starting to school up on the mid range humps and drops in the 15-20 foot depths with snap jigging being the best technique. When it comes to the evenings into the night, casting rattling suspending jerk baits has been by far the best option although casting rattling lipless cranks and minnow style ripping baits has been working as well.
North Long has been on fire for everything as of late. Walleyes have been in the 14-25 foot marks with live bait rigs with leeches or a spinner with leeches being the best. During low light periods, slip bobbers, 1/16 oz jigs fished off the bottom have both been effective with leeches and crawlers for walleyes. Large-mouth are very active and aggressive and can be taken casting any sort of slow sinking plastics in 5-10 feet of water around weeds.
The northern pike bite has been on fire no matter where you go. If you want action, simply troll a smaller crank bait or spinner bait that runs 4-8 feet deep. If you want to increase the size of the fish, simply increase the size of the lure. We have been running big musky jerk baits to get the biggest fish. You will want to troll these lures quite fast, anywhere from 3.5 to 5 mph.'
The walleye bite on the smaller lakes have nearly all transitioned into their summer patterns. Crawler harnesses has been our go to choice for catching them. The best part of about pulling a harness is you will also load up on every other specie in the lake!
Look for fishing to get better as wee stabilize moving forward. There is going to be a ton of great fishing in the Brainerd Lakes Area coming up!
This report has been provided by Nate Berg Fishing Guides.
Find more information on fishing vacations, regulations and lake information on our Fishing & Hunting page.