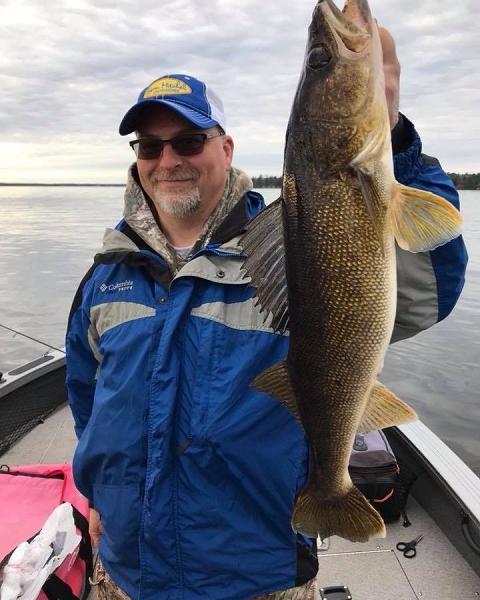 Walleye Opener Should Be Stellar in the Brainerd Lakes Area
With ice-off being several weeks in the rear view mirror, the walleye spawn should be very much done and weed growth should have a good start.  I expect the bite for walleyes and pike to be very good all over the area.  Look for the fish being shallow, look for them to be around the new growth vegetation and most definitely look for them to be hungry and putting the feed bag on.
Bass should be very active as well.  If I was going bass fishing, I would be covering water with spinnerbaits and chatter baits until I found a good school.  I would then slow down  my presentations to whacky worms, jig worms and creature baits.  Largemouth fishing should be off the hook!
With that said, I am going with tradition.  Two buddies, myself, 16 rods with different lures and presentations.  Here is my plan…
How I am Starting
Just like every year, I will start off the season before sunrise and start trolling.  The speed I try to hit is around the 2.1-2.5 mph mark.   There will be 3 of us in the boat and we will each have a different style lure as well as different colors.  If we do not get any strikes, we will change lures often until we find what they want.  Crazy thing is, every year is different so what worked last year may not get a bite this year so keep an open mind.
I want to cover as much water as possible, hitting waypoints on every weed clump I find for when the sun gets up and the walleyes bury themselves into an ambush position.  I will generally hit as much water as possible until either we find the fish schooled up or we get past the 9 am hour at which time I start playing connect-the-dots with the waypoints.   This allows me to narrow down where the schools are and then slow down my presentation to plastics or live bait.
As the Wind Increases
I generally troll on and off all day if there is a good wind like they are calling for this year.  Areas I will be targeting will be wind blown shoreline breaks and points.  What this allows me to do is find the most aggressive feeders.  Once I find a location that is housing a few fish, we will then start casting that area with the same lures we are trolling with as well as some minnow style baits like Chubby Darters.  Thats right, the old ice fishing lure works great in the summer while casting.  You simply snap it in.  If the area we are targeting is too weedy, we then will go to snap jigging plastics.  A spot lock and long casts are the key here.  You want to stay off the areas they are feeding.  Fish tend to be a little spooky this time of the year.
Generally speaking, natural colors when it comes to plastics seem to be better than the brighter varieties even if the water is a touch cloudy from wind.  I try to stay with a neutral jig head color or match the jig to the body of the plastic.
Mid Day Bite
Every year after lunch, we make sure we go hit a few hot spots for some panfish.  Crappies and bluegills will both be very active and feeding despite the cold front and snow we just dealt with.  Look for the crappies to be just off their spawning grounds and feeding heavily.  My favorite way to fish them when they are in these positions is throwing small 1/32 oz jigs tipped with plastics.  I have to give a shout out to the local plastics company Juice Baits for their creation called the Rubber Chicken,  It works incredibly well in this case.  I simply cast to the locations and swim the jig back to the boat.   I prefer the fall of the jig without a bobber in this case because you get many reaction strikes.  You can also dance the plastics back under a bobber but it doesn't allow you to change depths as you are working the jig.
If the crappies get really finicky, I will switch to a #6 gold Aberdeen hook below a bobber, no weight and the minnow hooked through the eyes.  This does not hurt the minnow and they can swim as freely as possible.  One thing I do use is a weighted stick bobber for easier casting in the winds.   Negative crappies will sometimes take this presentation when nothing else works so keep that little trick in mind.
I love targeting early season bluegills and opening weekend is a great time to do that.  The fish will be in shallow areas near newly emerging weeds.  Night crawlers and waxies will be in the boat and both will work well.  The best way to find the gills is to watch your temperature on your locator.  Generally speaking, the bluegills will be in the warmest water in the section of lake you are targeting.
Afternoon into Dusk
Basically what I do is go and target new water and look for weed clumps to target as the afternoon moves on into evening.  Trolling is by far my favorite thing to do during this time.  I feel its the best way to pick up active fish but it also gives me a good idea on where the fish are going to be as we approach dusk.  When we arrive towards dusk, we will go back to our best location and cast with jerk baits, rattling minnow baits and plastics.  This is probably the best time on opener to really get into a good school of fish.  Like most years, I will be throwing a rattling, suspending jerk bait.  Long pauses seem to get them going.  Long casts also give you a better opportunity to get strikes.  Keep in mind, many of the walleyes are roaming the shallows in small schools and can be fairly spread out.
After Dark
After about an hour after sunset, I will be trolling again.  At this stage of the game, I try to troll with my trolling motor.  The quieter I can be the better off I will be on the bite.  The goal is to hit the best areas I have found throughout the day.  I tend to slow down my troll from 2.1 to 1.6 mph covering as much water as possible to find the best locations. Where you catch one, you will catch another one.  It seems that on any given night, feeding locations will differ but once you can narrow them down, catch rates increase.  Try not to blindly troll.  Try to stick with some sort of structure, whether that is weeds or drop-offs.  The bite generally stays pretty hot for about an hour and a half after dark and slows.  If you can stick it out, the bite will increase again within an hour.
Be Courteous to your Fellow Fishermen
The walleye opener is a great time to be a fishermen.  It's exciting, its fun and it is a release from the grips of winter.  Keep in mind that there are a lot of people that may be fishing for their only time all year.  Not everyone is experienced so give people the benefit of the doubt.  Don't be afraid to share a few secrets with fellow fishermen.  Do your part to put some smiles on others faces.  Give room to fellow fishermen and by all means, give lots of room to the shoreline fishermen.  They have selected few spots in which they can fish.  Don't be that boat that anchors right on their only spot they can fish.
Good luck and stay safe everyone!
Nate Berg
Nate Berg Fishing Guides
218-821-9488