Brainerd Area Fishing Report-Get Out the Jerkbaits!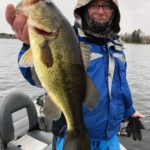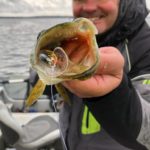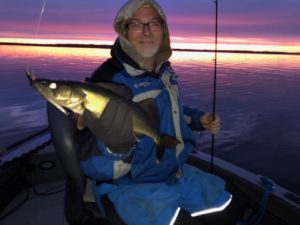 Great news for you all searching for a guide, we are open for business for up to two people starting on May 18th!
What an interesting walleye opener it was in the Brainerd Lakes Area. We have had snow on the opener before but holy man, we're those some huge wet flakes. We always start fishing before 5am and boat never leaves the lake on Opener until it's dark and then some. Well, not this year. We got soaked by that white stuff and took a little break, but that didn't change the fact that we put the smack down on some serious fish and here is what we found.
Walleyes were really shallow and they were very active despite the cold. The fish were either on sugar sand roaming in 5-8 feet of water or staging on weed clumps in 6-12 feet. In both cases, we never strayed from pulling gold or bronze jerkbaits trolled at 1.4 to 1.8 mph. Our best was a Salmo Whacky 12.
The key was getting the lure a heck of a long ways from the boat and trolling with a jerk/pause presentation. Of course lower light was better than mid day but the bite was pretty consistent other than just before the front showed up, the fish went ballistic. After drying out, the pike kept us busy and around 530 we began picking up a few walleyes. We stayed into the night and fished until 1030. Our biggest fish came after the sun set and we never got a walleye on anything other than gold or bronze all day despite trying lots of different colors and sizes.
Even though trolling cranks have continued to be the best bite during early and late hours, as the week has progressed we have started to pick up quite a few on plastics and shiners casting to weed clumps as well S long lining on sand and weedlines. By far and away a simple unpainted 1/16 oz jig has been the best. With this warm up coming I am expecting a better bobber and leech bite to begin soon.
My guess is the crappies don't know what to think with this up and down weather but I do know they are itching to get the spawn on. If you do go and target some crappies, use some selective harvest if you plan to keep some eaters. I know I will be hitting a few of my favorite spots. Small 1/32 oz jigs with a small bright colored tube jig as well as a plain Aberdeen hook with a minnow are both going to get a work out. Look for the males in pencil reeds or some emergent cabbage and the females close by just off the first drop off.
Bluegills are still staging and can be had in several presentations with live bait has been the best. Small panfish leeches, waxworms and Night crawlers all working well.
Pike fishing is absolutely fantastic simply trolling cranks along the weed lines. 2.5 to 3 mph has been the best.
The mine lakes by Crosby are smoky stocked and producing some nice fish. If you do a little research you can find the lakes that have the species you wish to target. A crawler below a slip bobber or a live bait rig with a crawler pumped full of air have been working wonderfully shore fishing. In the boat, we have been doing very well with small jerkbaits and Panther Martin spinners.
Make sure you get out and enjoy what Brainerd has to offer. We have some of the best multi species fishing in the state and fishing is only going to keep on improving as we go!
Nate Berg
Nate Berg Fishing Guides
218-821-9488