Fishing Remains Up and Down in the Brainerd Lakes Area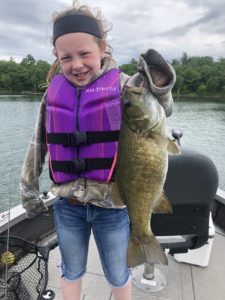 All I can say is wow, this weather has really put a dip in our normal hot spring fishing but with the stabilization of the temps, fishing should be nothing short of great in the Brainerd area this wonderful holiday weekend.
Walleye fishing has been up and down with the weather but we have found better walleye fishing in the smaller lakes compared to the bigger lakes like Gull, North Long and Alexander. If you can find emerging weeds, you are going to find active fish and I believe that is why the fishing is so tough on the bigger lakes, the weeds haven't really started to grow that well yet. If you are going to venture out on the bigger lakes, I would suggest bringing a wide range of live bait as well as your favorite jerk baits and plastics. The day really seems to dictate what the fish want to do and there hasn't really been a set pattern yet. The one constant is fish are really starting to school up on tips of points and anywhere there is some fresh cabbage growth. There is a wonderful trolling bite happening on Gull Lake. The best bites are within the first hour and a half of sunset and then when the moon gets directly over your head. You can eek out a few more in between those times but it does slow considerably. Natural colors as well as shades of blue with gold or bronze seems to be the best combos.
As for the smaller lakes, weeds are the ticket. Water temps are quite a bit warmer and weeds have really popped. I have actually started to get some walleyes on crawler harnesses but by far the best bites have been on slip bobbers and leeches. I have found that suspending the leech about 2 to 3 feet off the bottom in the weed beds has been the ticket. One tip that I find really effective on having better hooking rates is to actually use an over-sized octopus hook. I use anywhere from a #2 to a 1/0 but I always use red hooks. According to science, red is the first color to disappear in the color spectrum. The other thing I am doing right now is hooking the leech through the middle of the body rather than the sucker. For some reason, it has been the difference. There are so many smaller lakes teeming with walleyes in the BLA. If you want to find a hidden gem, I suggest checking out the MN DNR lake finder and you will find stocking reports on each lake that has had walleye stocking efforts.
Bluegills are very active and can be found anywhere from on the shorelines to 6 feet in weeds. They are staging and getting ready for the spawn. Crawlers and pan-fish leeches seem to increase the size but don't count out using plastics. Crappies have spawned in a few of the smaller lakes but for the most part are still trying to do their thing. Please use selective harvest if you plan on fishing crappies.
Large-mouth and small-mouth are both extremely active and easy to be caught. Right now for me, there is a 5 inch Juice Baits Stick hooked whacky style and everything else. The fish are in their pre-spawn patterns in most cases but some of the smaller lakes with small-mouth, I have spotted them on their beds. Look for fish in the 3-8 foot marks near their spawning areas and fish the Stick slow. It will be lights out!
Pike have really gotten active and I have switched to musky jerk baits and big spinner baits already. Trolling the edges of the shoreline drop offs has been key. I am using bright colors and trolling at 3.5 to 5 mph.
This is looking like a great weekend to fish so make sure you get out there and enjoy the Brained Lakes Area. I know I will be out every day this weekend so hopefully I see you out on the water.
Nate Berg
Nate Berg Fishing Guides
218-821-9488