Crossing Arts Presents 'Quilt, Not Quilt: The Afterlife' Exhibit Sept. 10–Oct. 2, 2021
Brainerd, MN—'Quilt, Not Quilt: The Afterlife', is an exhibition of twelve artists who have repurposed tattered quilts into reflective and collaborative new forms including paper, poetry, and broadside prints. The participating artists contemplated connections to the original quilts and their makers, focusing on craftsmanship and labor, scarcity and plenty, and on stories that can be recalled and stories never to be recovered. Responding to questions of social, cultural, and economic history, the resulting exhibition culminates in a multitude of diverse and unexpected transformations in material, story, and form.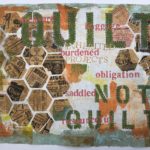 Featured Artists include: Patty Wheeler Andrews, Zoë Bird, Katy G. Collier, T.J. Goerlitz, Georgia A. Greeley, Karen C. Kinoshita, Jerry McClelland, Dana LeMoine, Rosa María de la Cueva Peterson, Cathy Ryan, Morgan Grayce Willow, and Sarita Zaleha.
Opening September 10, this exhibition will be on display in the Crossing Arts gallery in downtown Brainerd through October 2. An artist talk will be held on Friday, September 10, from 5:00–5:30 p.m. followed by an opening reception from 5:30–7:00 p.m. Masks will be required and social distancing is encouraged at all times.
For more information contact Crossing Arts at 218-833-0416 or via email. Gallery hours are Tuesday–Friday 10:00 a.m.–5:00 p.m. and Saturday 10:00 a.m.–2:00 p.m. Crossing Arts is a 501c3 nonprofit located at 711 Laurel Street, Brainerd, MN.
Artwork Image: T.J. Goerlitz. "Quilt Not Quilt". 2018. Mixed Media Collage.