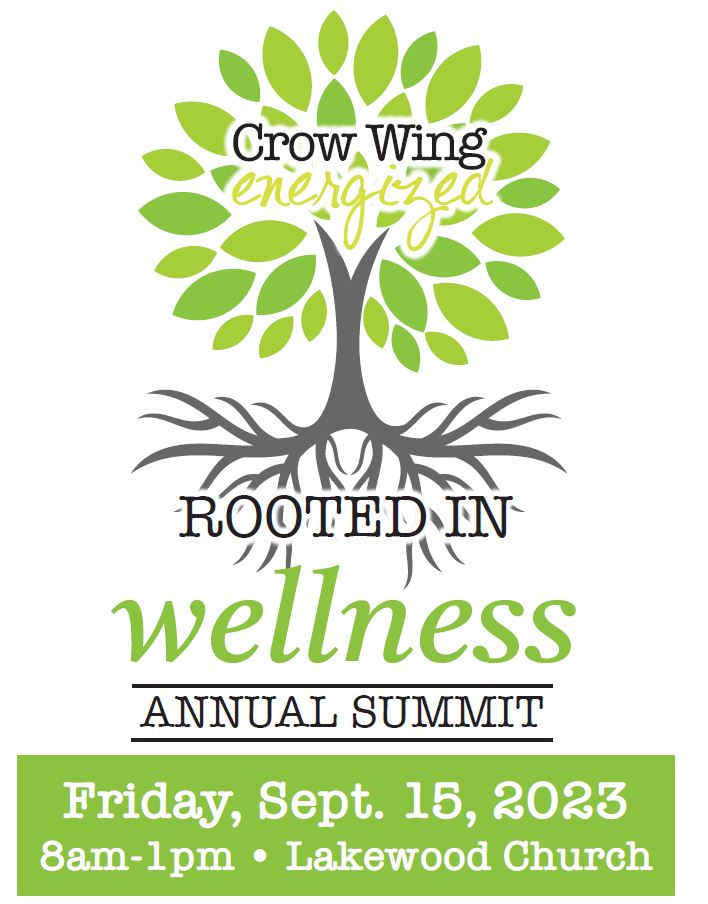 Crow Wing Energized 10th Annual Summit 'Rooted in Wellness'
September 15 @ 8:00 am

-

1:00 pm

|

Free
The community is invited to Crow Wing Energized's 10th Annual Summit 'Rooted in Wellness' on Friday, Sept. 15, from 8 a.m. to 1 p.m. at Lakewood Church in Baxter. The summit is free, but space is limited so registration is requested by Tuesday, Sept. 5.
Crow Wing Energized is a grassroots movement to improve the health and wellness in our community by making the healthy choice the easy choice.
The Summit is an opportunity to learn how to become the best version of yourself through changes that will have a positive impact on your personal health and wellness. We have brought together four local experts to share their passions around physical health and healthy eating: Deanna Olson, Jami Nelson, Julie Vandeputte and Michelle Toft.
Deanna Olson, Do Balanced Wellness Owner/Operator, will encourage you to Turn the Dial to Unlock Your Best Self. Deep health is a dynamic, ever-changing state of thriving in all the dimensions of life. Learn how to adjust your 'life dial' to keep making progress even when life gets crazy.
What is Conscious Consumption? Join Jami Nelson, life coach and owner of Just Juice Co., to evaluate the foods you eat. Does most of the food you eat have ingredients you can pronounce? You will learn if the food you are consuming is contributing to allergies, fatigue, inflammation, brain fog or other physical ailments.
Julie Vandeputte, AFAA, NACSM, personal fitness trainer, and certified nutrition coach, will discuss What is NEAT and Why is it Important? Essentially, NEAT is the calories a person burns through daily activity. Learn how NEAT you are and identify ways to increase it – especially during the winter months.
Throughout the day, Michelle Toft, fitness instructor, will teach stress reduction techniques to combat the effects stress has on our physical and mental health. Some of the techniques will focus on intention setting, breathing, and grounding.
There will be opportunities to network and learn about the work Crow Wing Energized is doing in our community. A light meal will be served as well as coffee and water. To learn more about the Rooted in Wellness Summit and to register visit CrowWingEnergized.org/events-classes/
Share This! Choose Your Platform >>