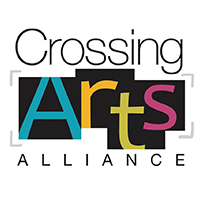 February – Second Saturday At Crossing Arts
February 8 @ 10:00 am

-

2:00 pm
Time for this event are 10-11:30 am AND 12-1:30 pm.
Kids will be creating HeART Strings. We will be featuring a craft we like to describe as HeART Strings. Utilizing simplistic materials such as wood, nails and colorful string/yarn you will create a rustic and charming heart image. The technique of pulling, stretching and looping the strings/yarns from nail to nail is rhythmic and encourages the development of fine motor skills. Join us in pulling at HeART Strings this February in The Crossing Arts Classroom.
Pre-registration is required for this class. Click the link below to register and pay!
10AM TO 12PM
Meet the Crossing Arts Alliance featured Member Artist, Molly Mae. Molly became fully immersed in the art world at a young age when she met Evelyn Matthies, who became her art teacher, mentor, and best friend. Learning through Evelyn's eyes, gave Molly a deep passion to create and grow her art practice throughout the years. Molly primarily works in acrylic painting, as it is the medium she started with and is most fluent in. She also enjoys working with oil pastel and mixed media, and has recently delved into larger work through murals, as well as the medium of body painting. Over the last few years, Molly has learned to paint more from her heart, rather than her head and past knowledge. Her love of storytelling, personal memories, and emotions have all made their way into her creative process and finished artwork. View some of her pieces on display, talk with her, and learn more about the process for creating her artwork.
10AM TO 2PM
In the gallery, the current exhibition, 'LOVE', will be on display. This exhibition asks the question, "What is your interpretation of love?". To some people it may be a place or a person, others a feeling or an object, maybe a work of art or memory from the past, or perhaps something completely different? The artists featured in this exhibition have dedicated time and thought into what Love means to them, and their personal interpretations and artistic expression of this meaningful word are presented here for all to see.