Series finale this weekend includes lemons, goblins and more at BIR
Wallys, lemons, goblins . . . the final drag race of the season at Brainerd International Raceway will have a little of everything, including $10 admission on Sunday.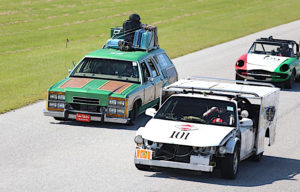 BIR's drag strip will be a battleground for drivers in the Bracket Drag Racing Series this weekend and the last chance to fight for series points and a championship. Those who end up at the top of the point standings after Sunday will take home a well-deserved title, along with bragging rights that will carry into next season.
Saturday's race is extra special for all the classes. It's the NHRA.tv Challenge – commonly known as the "Wally Race" – where winners of the six classes will all be awarded a Wally trophy just like the stars of the NHRA win. The Junior Dragsters get in on the action as well. For the three Junior Dragster classes (ages 18 and younger), Saturday's race is the NHRA Summit Racing Jr. Drag Racing League Challenge, where the three winners will each receive a Wally trophy, too.
Friday is a Test & Tune Day. Saturday and Sunday both start with time trials and qualifying with elimination rounds determining class winners both days.
A new event for BIR will be on the 2.5-mile Competition Road Course Saturday and Sunday. The 24 Hours of Lemons will be at BIR for the Minneapolis 500, which is a pair of endurance races for cars worth $500 or less. Teams of drivers – most of which show up with very creative themes for their teams and cars – are competing in an eight-hour race on Saturday and a 6.5-hour race on Sunday. The team that completes the most laps in the allotted time wins.
Saturday's list of activities includes a Halloween Costume Contest after racing for fans as well as race teams. There will be an outdoor scavenger hunt, prize drawings and more.
Daily admission on Sunday is only $10. Admission on Friday and Saturday is $25. Parking is free and camping is free with a multi-day ticket.
The final spectator event of the season is Oct. 19-20, which will be Drift Bash.