30 Days of Giveaways
Over the next few weeks while many of us spend time online rather than together in-person, Visit Brainerd is offering a fun way to plan ahead.
We've purchased gift cards from our partners in the tourism industry—hotels, attractions, restaurants and breweries. Our "30 Days of Giveaways" will be held March 21–April 19, 2020. During the next 30 days we will be giving away a gift card each and every single day.
Daily registration is required.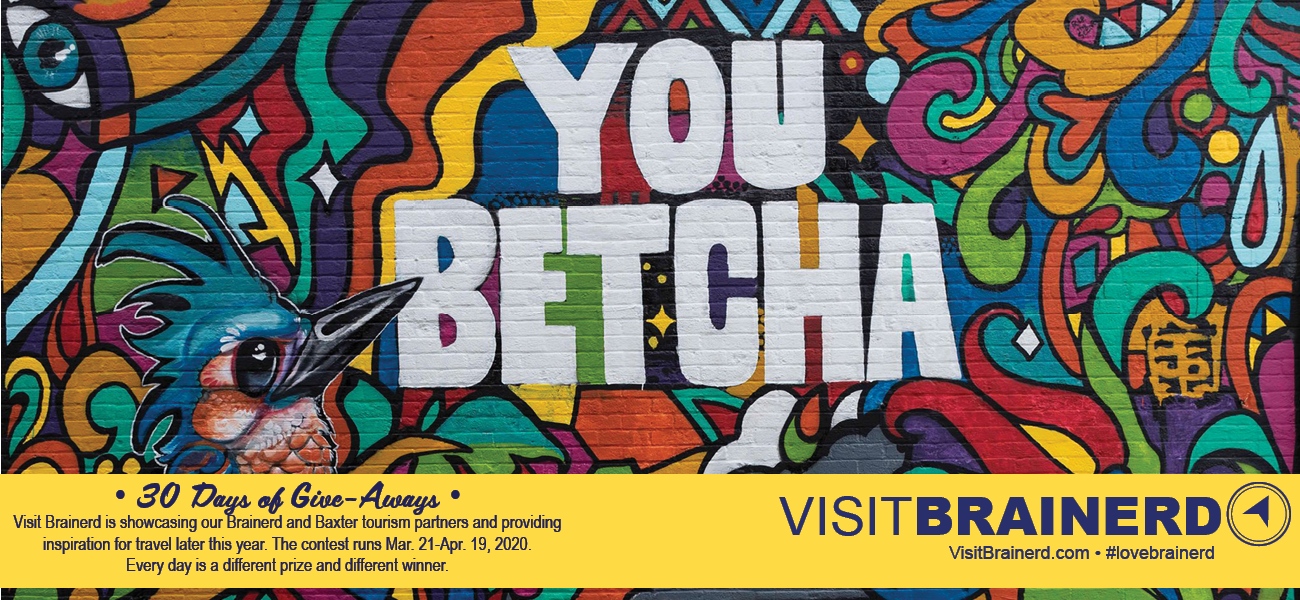 PRIZE: Saturday, March 28
From the owner, "Our scratch made dishes are delicious and creative with something for everyone. We have many options for special diets such Vegetarians, Vegans, and Gluten Free as well as traditional Minnesota fare." Located in a beautifully restored Historic Downtown Brainerd building on Laurel Street.
PRIZE: Friday, March 27
Christmas Point is located in Baxter on Highway 371. It is a 26,000 square foot three-story log-cabin structure offering wild rice, furniture, home décor, gifts, and so much more. It's a favorite spot for a coffee, lunch or sweet treat.
Contest Rules:
Registration closes each day at midnight. Winners will be notified via email the following morning.
The contest is free and open to anyone 18 years of age or older.
Entries are limited to one entry per person per day.
Open to everyone except the employees and family members of Visit Brainerd.
All entries become the property of Visit Brainerd and may be used for publicity and promotional purposes.
PRIZE: Thursday, March 26
Winner: Austin S. from Sartell, MN
From the owners, "Since 1972, Easy Riders has been providing quality products and expert service to central Minnesota. We were the first bicycle specialty shop in the area, and we're still the best. In addition to carrying hundreds of bikes and a wide variety accessories and clothing, we offer a ski and snowboard shop, certified service, canoes and kayaks, Boy Scouts Supplies, an archery pro-shop, fitness equipment, rollerblades and a skateboard/longboard shop. We also have rentals!"
PRIZE: Wednesday, March 25
Winner: Michelle M. from Breezy Point, MN
From the owner, "You're invited to step into our cozy, relaxing atmosphere with a mix of old, new and locally handmade items for you and your home." Featuring: Vintage Inspired Clothing, Accessories, Primitives, Knick-Knacks, Antiques, 1803 Soy Candles & Melts, Black Crow Candles. OTBT Shoes & Boots, Locally Handcrafted and Seasonal Items. Find them in Downtown Brainerd on Laurel Street.
PRIZE: Tuesday, March 24
Winner: Bryan V. from Cedar, MN
Here's a great stay and play package! Receive $100 for lodging and $25 for dining at the Arrowwood Lodge of Brainerd Lakes. Staying at the Arrowwood Lodge at Brainerd Lakes is like retreating to a cozy cabin—just with all the comforts of a modern hotel. Our Lodge is known for its rustic beauty, indoor waterpark, Baxter's Bar & Grill, and elegant meeting and event spaces. From Jack Pine Brewery, "Our goal is to bring you a quality brew across a wide spectrum of flavors. From light to dark, malty to hoppy, and even an award-winning pepper beer to spice things up, you're bound to find something you like. You might even be surprised with a well made style outside of your typical realm of favorites. Take a look at our taproom beer list below to see what we are currently pouring."
PRIZE: Monday, March 23
Winner: Jennifer L. from Buffalo, MN
From the owners, "We have one focus at Northland Kart Kountry — that you and your family have a great time making memories. That's why we do our best to offer safe, exciting rides, activities, and attractions for visitors of every age!" Attractions include Can Am Go-Karts, Bullit Karts, Indy Racing Karts, Junior Karts, Bungee Bounce, 9D Virtual Reality and Batting Cages.
PRIZE: Sunday, March 22
Winner: Scott D. from Hutchinson, MN
A local favorite, to be sure, this restaurant is known for it's delicious and unique menu. Inspired by farm-to-table ingredients which are locally sourced, there is something for everyone. Amazing starters and craft cocktails, magnificent main entrees, and delicious desserts.
PRIZE: Saturday, March 21
WINNER: Anastacia L. from Wilton, ND
From the owner, "We make our own soaps, bath bombs and salts in-house. Every product is made to nourish your skin and have you feeling your best. We feature the use of essential oils and natural colorants, so you can feel great about what you are using in your bath, and on your skin. We have a carefully curated selection of hand-poured candles, artisan tea, lotions made from scratch, unique sugar scrubs, natural deodorants, and a lot more! These products are inspiring and are all handmade by people who care about what they are producing, and how it affects your body and mind." The fun goes beyond the products and into the makers' space with classes and instruction available too.