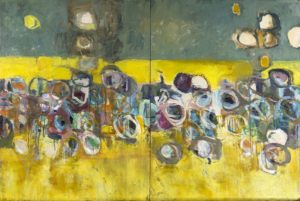 An upcoming event at The Crossing Arts Alliance is a lecture and demonstration by Bonnie Cutts. Cutts is a Certified Working Artist using Golden Paint. The event is being held on Wednesday, August 14, from 6:00–8:00 p.m.
Throughout this two-hour presentation, attendees will learn about a variety of GOLDEN acrylics and the inherent possibilities of acrylic materials. Extensive information about acrylic paints, gels and mediums is presented, including OPEN and High Flow acrylics. Attendees will see how acrylic paints and gels mix together, as well as several examples of materials in a variety of applications, and learn to extend their paint to save money and how to mix gels with paints to create gorgeous textures and surfaces to paint on. Open to all levels of painting experience. Information packets and free samples provided for all attending. This will be a lecture and demo, not a participatory event.
This event is free. Pre-registration is required. Contact The Crossing Arts Alliance at 218-833-0416 or enroll on crossingarts.org under the events/workshop link.
The Crossing Arts Alliance is a 501c3 nonprofit located at 711 Laurel Street in downtown Brainerd.