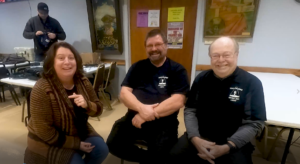 Youth On Stage Open Mic is a free program for youth ages 10 to 25 years old who have a family friendly talent to share. Each performer can sign up online for a 15 minute time slot to sing, dance, act, etc. The first 8 acts to sign up get a free meal from the Eagles Club Grill and a chance to win one of 5 – $10 gift cards!
Mark Munson's dream of a youth orientated Open Mic program, where kids could continue to be involved with their music and perform to live audiences on a year around basis, meets the 4th Monday of each month at 6:30 pm at the Brainerd Eagles Club. The next event is planned for Monday, December 27. This is open to the public. Come to the Eagles Club and support the youth performers, or perform yourself!
Interested in learning more? Holly talks with Jim Runberg and Curtis Jendro (co-directors) as they explain all of the details about the Youth on Stage program.