The weekly birding report for the Brainerd Lakes area is provided in partnership with Visit Brainerd and local guide and naturalist Judd Brink.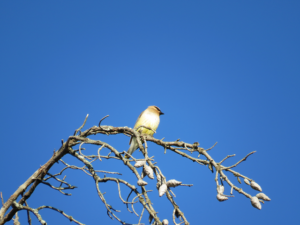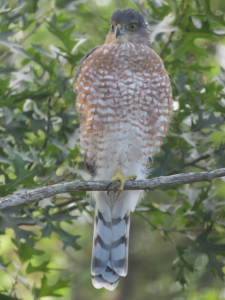 Pictured left to right: Cedar Waxwing and Coopers Hawk
Thanks to everyone who follows the weekly birding reports for the Brainerd lakes area and my birding adventures.
Birds observed this past week in the Brainerd Lakes area include: Coopers Hawk, Sharp-Shinned Hawk, Bald Eagle, Turkey Vulture, Osprey, Wild Turkey, Trumpeter Swan, Mallard, Goose, Woodduck, Common Meganser, Hooded Merganser, Killdeer, Barn Swallow Double-crested Cormorant, Common Loon, Great-blue Heron, Cardinal, Rose-breasted Grosbeak, Indigo Bunting, American Redstart, Cedar Waxwing, Towhee, Brown Thrasher, Song Sparrow, Eastern Bluebird, Common Nighthawk, Ruby-throated Hummingbird, Mourning Dove, Oriole, Gray Catbird, Pileated Woodpecker, Red-bellied Woodpecker and Raven. Happy Birding!
You're invited to Crow Wing State Park to learn more about the fall bird migration and participate in a short bird walk with guide/naturalist Judd Brink. The program starts at 11:00 a.m. this Saturday, August 31. Look for the program signs as you enter the check-in station.
The fall bird migration is just getting started but won't peak until the middle of September. I will share a few "hot spots" for fall birding in our area over the next few weeks.
Please report any unusual birds to Judd Brink via email. Please include a photo and or a brief description in the email if possible.
Go birding today and use our birding kits which are available for your birding convenience during your stay in the Brainerd Lakes area. Find more information on the Bird Watching.
[/fusion_text][/fusion_builder_column][/fusion_builder_row][/fusion_builder_container]