Minnesota fishing vacations are some of the best in the United States and Brainerd is proud to host some of the finest fishing Minnesota has to offer.
Situated in Central Minnesota, the Brainerd Lakes Area, largely located in Crow Wing County, has more than 400 lakes. From small secluded spots to large multi-species fisheries, Brainerd is a fishing destination that should not be missed. Some of the better known fishing lakes are Gull Lake, Mille Lacs, Crosby-Ironton Mine Pits, Pelican Lake and the Whitefish Chain. Another lake worth the drive—about 65 minutes north of Brainerd—is Leech Lake.
Fish species in Brainerd include Walleye, Northern Pike, Trout, Large-mouth Bass, Small-mouth Bass, Crappie, Sunfish, Perch, Muskie and more. Whatever species you are after, Brainerd probably has it.
To help ensure your trip is a success our Brainerd Minnesota Fishing Guides are ready to show you secrets and take the hassle out of your fishing trip.
If you would rather make your own luck, launch a boat at one of the Public Accesses or try shoreline fishing.
Click here to find information on lakes in Crow Wing County.
Gull Lake is the largest and most popular lake in the area and a draw for multi-species fishing and water sports. The Gull Lake chain consists of eight lakes and bays and runs from just north of Brainerd to Nisswa Lake through a series of lakes and channels. There are several restaurants on the lake accessible by boat and snowmobile.
Mille Lacs Lake is a premier smallmouth bass, walleye and muskie fishing lake with over 207 square miles of water to explore.
The Crosby-Ironton Mine Pits features pits stocked with trout, walleye and other fishes. It also includes areas for water-sport activities.
Along with being able to fish open water, when the lakes freeze over ice fishing is able to take place. With its own gear, minor differences & some rule changes, one being the use of two rods being allowed. Also all of the lures used during ice-fishing are made to be jigged, as vertical motion is the only option available. Many of the same popular lakes and species continue to flourish throughout the winter months.
Ice Fishing Gear Checklist: 1) Auger- To drill a hole in the ice. 2) Winter gear- Including Bibs, Coat, gloves, boots(with ice-cleats) , a hat and extra layers are welcome 3) Ice-fishing rod- Smaller than summer rods 4) Reel-To go on your rod 5) Line- Choose line test depending on your target fish 6) Sled- To carry all of your supplies 7) Shelter- Some sort of place to keep you out of the elements and hold in warmth 8) Heater- To help keep warm 9) Ice-Scoop – To keep your ice hole clean 10) Flasher- To help locating fish be an easier task
[/fusion_text]
Fishing Report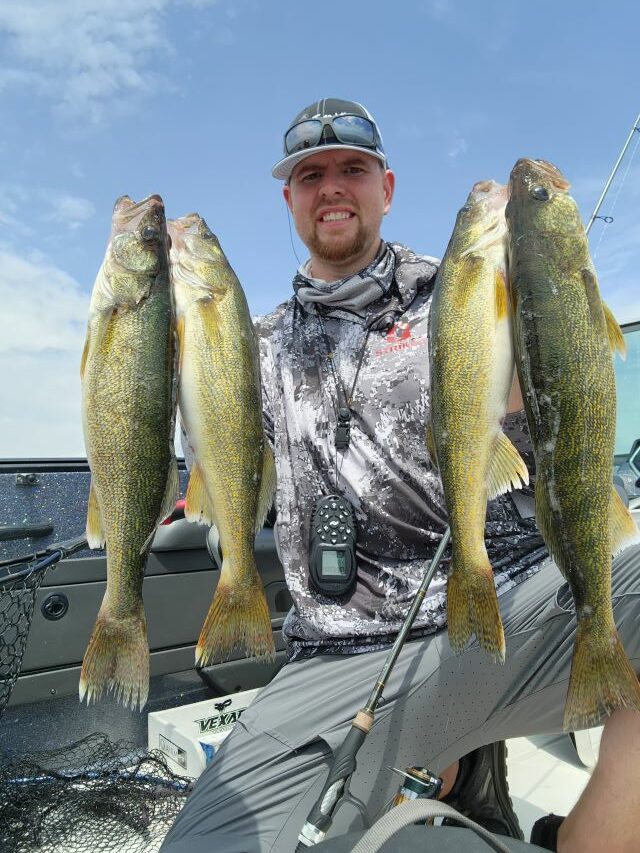 Our Brainerd Minnesota fishing report features the major lakes of, and typical species caught in, the Brainerd Lakes Area. Reports are updated weekly by a local fishing guide. Find reports, tricks and tips to help make your fishing getaway a success during open- and hard-water fishing seasons.