Brainerd, Minnesota's playground is your boating and watersport destination offering over four hundred lakes and rivers to explore.
Spend the day on Brainerd's larger lakes enjoying tubing, skiing, wakeboarding, or just cruise the lake. Want an afternoon adventure; explore miles of channel and several lakes while traveling from Gull Lake just north of Brainerd all the way to Nisswa Minnesota. Stop by one of several restaurants on the water that offer a variety of food and beverage choices, outdoor music, volleyball and more.
If you prefer quiet scenic solitude then we recommend exploring one of Brainerd's many smaller lakes, the Mississippi River, Crow Wing River, or Gull River in your boat, canoe, kayak, or paddleboard. Don't have the right equipment, no problem; we have local Brainerd area merchants that will be sure that you have everything you need to make your Brainerd Minnesota adventure a success.
Staying at one of our Brainerd or Baxter Minnesota hotels and indoor water parks will give you easy access to these great Minnesota lakes and rivers and as a thank you for staying with us you can also get a discount on boat rentals. Ask the front desk or call Visit Brainerd for more details.
Come, scuba dive in the scenic Brainerd Lakes Area.
Brainerd is home to the Minnesota School of Diving. Just a short drive east of us is the Cuyuna Recreation Area with historic mines now filled with water and full of a wide variety of fish. This is a unique opportunity and one that definitely needs to be on your bucket list.
Create a unique and memorable Minnesota getaway by spending a day scuba diving in historic mine pits. Then explore the rest of the Brainerd Lakes Area, enjoy excellent dining on and off the water, and run late into the night at one of our great live music options right in downtown Brainerd.
For lodging we have you covered with a great selection of hotels, water parks, and RV Park giving you centralized access to the entire lakes area with all the comforts and conveniences you deserve. Come scuba dive in the scenic Brainerd Lakes area, we can't wait to see you.
Cruise Lines
Enjoy the Brainerd Minnesota Lakes Area from the deck of one of the areas cruises.
The Brainerd Lakes Area has long been known for its scenic lakes. Explore Gull Lake, the area's most popular, from the deck of Gull Lake Cruises or head a bit north and discover one of the areas gems, Pelican Lake, on the deck of the Breezy Belle. Both are conveniently located just a short drive from the Brainerd and Baxter Minnesota hotels and indoor water parks giving you all of the comforts and conveniences you deserve with centralized access to the Brainerd Lakes Area.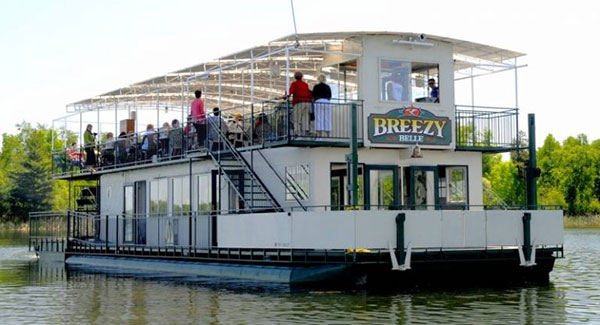 Breezy Belle
100 passenger genuine paddle-wheeler excursion boat birthed at the Dockside lounge in Breezy Point offering public and private cruises. Pelican Lake is known for its clear blue water and excellent fishing for a variety of species including walleye, bass, northern pike, and panfish. Dockside Lounge offers great food, outdoor seating, and live entertainment on the weekends.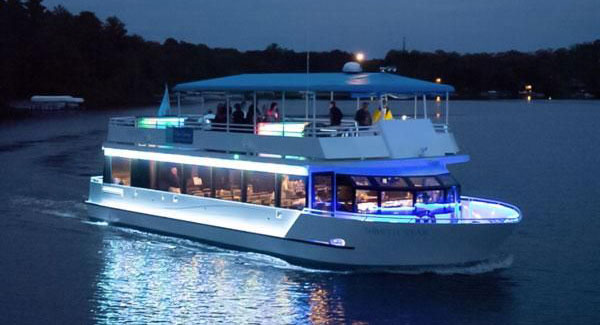 Gull Lake Cruises
Escape on the majestic waters of Gull Lake aboard Gull Lake Cruises' magnificent luxury yacht, the North Star. Day and evening dining and sightseeing cruises on Gull Lake, as well as private charters for any occasion, offer guests the opportunity to savor the area's finest cuisine, fine wines, domestic and premium beers or signature cocktails while relaxing the day away. An outdoor observation deck allows guests to take in the beautiful Gull landscape, while the indoor salon ensures maximum comfort, and luxury, for everyone aboard.