Bass, Bluegills and Crappie Fishing Hot in the Brainerd Lakes Area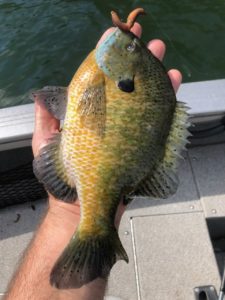 The fishing is pretty consistent in the area with great fishing happening for bass, bluegills and crappies. Look for bass either under docks, in thick vegetation or off the tips of deep water points. Bluegills can be found along weed lines, inside turns as well as tips of points. Crappies have been best on top of weedy points during windy day's and suspended off the edges on calmer days.
The walleye bite has been fair to good with consistent bites happening trolling harnesses along weed edges as well as some deeper fish on rock with live bait rigs or snap jigging. A consistent night bite is also happening along weed lines.
Pike are still very aggressive and on shoreline breaks.
Nate Berg Fishing Guides
218-821-9488