Brainerd Fishing Report: Fishing is heating up!
Fishing in the Brainerd Lakes Area continues to heat up as we roll into June! Walleyes have been responding to slip bobber/leeches or jig/minnow presentations in 3 main locations: breaks, weeds, and big sandy flats. During the day, focus on breaks/steep edges in 16-25ft and green weeds (unless overcast, they tend to roam the shallows too). Fish roaming the weeds may be holding in weed pockets, inside weed lines or on the deeper edges. With a jig/minnow combo, cast sand flats near deep water, 10-16ft has been consistent. Northern Pike have been active in and around developing weeds using various tactics such as jig/swimbaits, minnow-profile crankbaits, and jig/minnow presentations. Target them in 8-16ft. Longline trolling has been effective finding fish.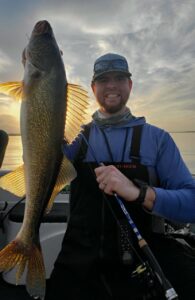 Night-bite: Night fishing walleyes on several bigger, clear lakes in the area is good too (Gull, North Long, Edward, Pelican, etc.). Catch roaming and feeding walleyes on shallow sand flats, inside weed lines and rocky/gravel bottoms around sunset and through the night. Longline shallow running crankbaits such as Smithwick Rattlin' Floating Rogues in 4-8ft to entice walleyes of all sizes, with the chance of catching big fish!
Mille Lacs: Fish continue to hold to various cover and depths, but focus on windblown shorelines, first breaks, inside turns, points and transitions between hard and soft bottoms. Focus efforts in 6-16ft at low-light and 16-22ft during the day. Slip bobbers/leeches and jig/minnow combos have been consistent producers.
We have fully guided fishing trip availability in the Brainerd Lakes Area and Mille Lacs Lake for dates in June, but they won't last long! As always, good luck, stay safe and Happy Hawg Hunting!
Brainerd Fishing Report provided by Dustin Monson – Hawg Hunterz Guide Service