Panfish Ice Fishing Hot in Brainerd, MN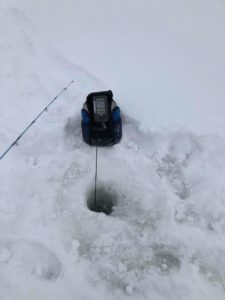 While solid ice can be found on lakes throughout the state, ice growth has stalled due to recent mild temperatures. The recent heavy wet snowfall will add pressure to the snow and ice making it slushy and it will conceal areas of thin ice. At this time, vehicle travel is discouraged. Anglers are asked to please consult with area resorts and bait shops to learn the most current conditions before heading out. Learn more about ice safety.
This weekend is Take a Kid Ice Fishing Weekend! From Saturday, Jan. 16 through Monday, Jan. 18, Minnesota residents age 16 or older can fish or dark-house spear without an angling or spearing license if they take a child younger than 16 fishing or spearing. Anglers that prefer to fish open water should consider trout fishing this weekend when a trout stamp is not required if a resident is fishing with a child younger than 16.
Here is the fishing report from Nate Berg Fishing Guides . Brainerd fishing has been very hot for panfish. Fish are either in weeds or suspended over basin holes. Aggressive jigging with artificials, both spoons and plastics, have outdone live bait.
Walleyes have been hit or miss. Dead sticking using a plain hook below a split shot has been the best as of late. Some fish are being taken on Gull Lake during daylight hours in shallow weeds. Pike are still hitting suckers on the weed lines.