Bluegill and Crappie Ice Fishing Hot in Brainerd, MN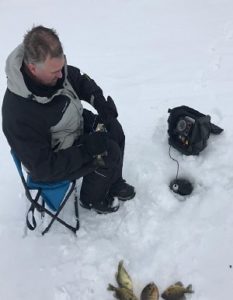 The Brainerd Lakes Area ice conditions are not exactly wonderful with a wide range of thicknesses, plus many lakes have a slush issue. I wouldn not recommend driving out on any lakes. ATV, UTV or snowmobile is the way to go.
Bluegills and crappies have been hitting fairly well for a couple hours after sunrise and before sunset. Pike have been hitting pretty well on the weed lines on light northern suckers. Upsize the sucker and upsize the pike.
Walleye fishing has been tough. Some fish are biting during daylight hours but look at low-light periods for the best action. Gold flutter spoons with a minnow head have been our best bet. We have been targeting as close to the base of the weed line as possible.
Nate Berg Fishing Guides
218-821-9488