Crossing Arts Presents its newest exhibition '84, Artwork By Tony Powers.
Brainerd, MN—'84 is an artistic reaction to the volatile social and political climate of 2020. Created during the COVID-19 Quarantine, pieces respond to an array of extreme current events surrounding this time in history. Works include commentary on issues such as human trafficking, violence, censorship, and voter suppression. The rough bold graffiti style of the show is not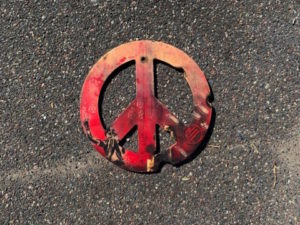 something you may be accustomed to seeing from the tattoo artist and muralist, and was chosen specifically to reflect the important protest movements going on across our country in response to police assaults and racial injustice. The show title '84 is a nod to Orwell's 1949 novel, a prophecy of authoritarian social practice, psychological manipulation, and class struggle and an acknowledgement to parallels seen in today's world.
Opening August 4, this exhibition will be on display in our gallery through August 29. Due to COVID-19 and regulations for large group gatherings, we will not be having a public reception for this exhibition, but the public is invited to visit our gallery during regular business hours to view the artwork. In addition, a gallery tour video will be posted on our website and social media pages for those that are unable to view the exhibition in person.
For more information contact Crossing Arts at 218-833-0416 or via email. Hours are Tuesday–Friday 10:00 am–5:00 pm. Crossing Arts is a 501c3 nonprofit located in the heart of downtown Brainerd at 711 Laurel Street.