Brainerd Fishing Guide Service
**Premier Fishing Adventures with Brainerd Guide Service**
For three decades, Brainerd Guide Service has stood out as Brainerd, Minnesota's top-rated fishing guide service. Our expert fishing professionals are celebrated for their engaging demeanor and unmatched fishing acumen. No matter the occasion – be it a family getaway, a business retreat, or your inaugural fishing escapade – trust our Brainerd fishing experts to elevate your angling experience to unparalleled heights.
**Dedicated and Professional Fishing Guides**
In the picturesque realms of Brainerd Lakes and Crosslake Area, our guides ensure that you're equipped with the finest fishing gear, mirroring the premium equipment they use themselves.
**Essentials for Your Trip**
Pack your Minnesota fishing license, suitable attire for the season, a pair of sunglasses, and a hat. Leave everything else to us! From equipment to expertise, we've got it all. Plus, for added convenience, our Brainerd fishing guides can arrange to collect you from your chosen lodging, be it a resort, motel, or private dock.
**Fishing Excursions Tailored to You:**
Choose from our range of fishing charters – spanning four, six, or eight hours. Benefit from our spacious, comfortable boats, top-of-the-line fishing equipment, and premium tackle. And once you've reeled in your prize, our guides will expertly clean and package your catch, complimentary.
Photos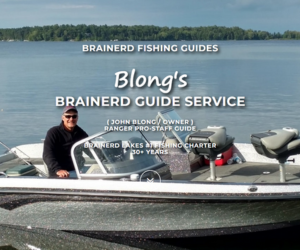 ---