Brainerd VFW Post 1647
The Brainerd Veterans of Foreign Wars post is a non-profit organization that serves needy veterans, their families and the community with over $70,000 in charitable contributions each year.  That includes sponsoring two VFW baseball teams, a Bantam AA Hockey Team, the Brainerd Area High School  trap shooting team, Brainerd Warrior Robotics, the Brainerd July 4th Parade, the American Cancer Society, Parker Scout Camp, the Initiative Foundation, Special Olympics Minnesota, Pillager Schools Fishing Club and much more.
Brainerd VFW contributed money to the baseball scoreboard at Don Adamson Field along with Boy Scouts, Cub Scouts, School Patrol, Youth Trap and Skeet, local scholarships, and the Food for Students program.  High school students winning the annual VFW Voice of Democracy and Patriot's Pen competitions received $300.
Some 203 pints of blood were drawn, at the Brainerd VFW, by the Red Cross in 2019.  Sessions are scheduled about every other month at the VFW.
Brainerd's Distinguished Service Award for Outstanding Non-Profit went to the Brainerd VFW in 2016.  Non-profit groups often use the Brainerd VFW facility to do fund raisers or have meetings at no charge.
309 South 6th StreetBrainerd, MN 56401
Photos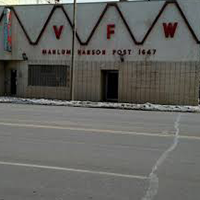 ---