Tour of Lakes
The Tour Of Lakes will be Saturday, June 6. It will start and finish in downtown Brainerd, on Laurel Street between 6th and 7th Streets. Registration will be in the parking lot between Sage on Laurel and Hockey House. Start times are 6 to 8 am.
Experience the beautiful Brainerd Lakes area as you ride past lakes and forests on low traffic rolling to flat terrain. An occasional hill can be found as well. Our tour promises an abundance of beautiful scenery, fresh air, terrific rest stops and a different route each year. The "Tour of Lakes Bicycle Ride" is a one day recreational ride for cyclists of all abilities (it is not a race).
The "Tour of Lakes Bicycle Ride" is a not for-profit bicycle tour hosted by the Paul Bunyan Cyclists Bicycle Club. Any surplus revenues are used to promote safe cycling in our community. The ride is held rain or shine.
We offer two route choices of approximately 35 and 66 miles. We do not have a registration deadline, but, registration fees are lower for early registration, save money and sign up soon. Registration is not refundable. Both routes are well marked and fully monitored by support vehicles to aid in emergency situations. Due to the large number of participants, priority will go to those with serious problems. Riders and their equipment are expected to be in good condition. As on all other rides, cyclists should carry tools, a pump and a spare tube.
Check in will start at 6:00 a.m. and close at 8:00 a.m. Riders are permitted and encouraged to start as soon as possible after check in. All riders should be on the road by 8:00 a.m. These start times should allow most riders to return to the start area by mid-afternoon. All riders must plan to be off their respective routes by 3:00 p.m. The last rest stop will close at 2:30 p.m. and official course support will end at 3:30 p.m. T-shirts are handed out upon completion of the ride. All registrations before May 1 are guaranteed a T-Shirt, for registrations after May 1 T-shirts are not guaranteed, they will be provided if available.
We are greatly concerned about the safety of our participants. All riders must obey the rules of the road, watching out for others as well as themselves. Our tour is mostly on public roads, and we must cooperate with other users. We require the use of an ANSI approved helmet by all entrants.
We are known for the quality, variety and quantity of the food at our rest stops. Plan to be pleasantly surprised!
There will be an after party following the ride with a band, food and drink available from local businesses. So after you pick up your t-shirt stick around, hear some great music, and enjoy downtown Brainerd's great local businesses.
606 Laurel StreetBrainerd, MN 56401
Photos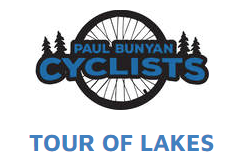 ---
Sorry, there were no items that matched your criteria.