Tour of Lakes Bicycle Ride
2021 Tour of Lakes Bicycle Ride on Sept. 11 – CANCELED
Update on 8/19/2021: "It is with much regret that the Paul Bunyan Cyclists have decided to cancel the 2021 Tour of Lakes. At the time that the event was scheduled we did not expect another Covid surge, new cases are once again approaching all time highs. Even though cycling is a relatively Covid safe event, given the age of many of our riders we were concerned about bringing large numbers of people, many of whom are vulnerable, together during a surge. All riders who have signed up will receive a full refund of their registration fees. We are sorry that we could not ride with you this year, and look forward to a time when we can gather again safely. ​Thank you for your patience and understanding."
Click here for a of TOL parking in downtown Brainerd. For updates on TOL we suggest Liking us on Facebook.
Experience the beautiful Brainerd Lakes area as you ride past lakes and forests on low traffic rolling to flat terrain. An occasional hill can be found as well. The tour promises an abundance of beautiful scenery, fresh air, terrific rest stops. The "Tour of Lakes Bicycle Ride" is a one day recreational ride for cyclists of all abilities. IT IS NOT A RACE.
The "Tour of Lakes Bicycle Ride" is a not for-profit bicycle tour hosted by the Paul Bunyan Cyclists Bicycle Club. Any surplus revenues are used to promote safe cycling in our community. The ride is held rain or shine.
Two route choices of approximately 35 and 66 miles.
No registration deadline, but, registration fees are lower for early registration. Registration is not refundable.
Both routes are well marked and fully monitored by support vehicles to aid in emergency situations.
Check in will start at 6:00 a.m. and close at 8:00 a.m.
All riders must plan to be off their respective routes by 3:00 p.m. The last rest stop will close at 2:30 p.m. and official course support will end at 3:30 p.m.
All riders must obey the rules of the road, watching out for others as well as themselves. The tour is mostly on public roads. Riders are required to use an ANSI approved helmet.
There will be an party following the ride with a band, food and drinks available from local businesses. So after you pick up your t-shirt stick around, hear some great music, and enjoy downtown Brainerd's great local businesses.
606 Laurel StreetBrainerd, MN 56401
Photos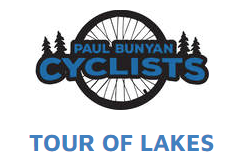 ---
Sorry, there were no items that matched your criteria.