Brainerd, MN—Every year snowmobiling draws hundreds of sports enthusiasts for the winter season. Covering a land area of 1,670 square miles with nearly 1,000 miles of groomed snowmobile trails, Brainerd and Central MN is the place to be for snowmobiling. Experience snow glistening trails through forests and over many scenic lakes. To get you started with your snowmobile trip, here are a few tips below.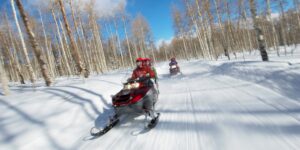 Trails 
Before you plan your snowmobiling adventure, be sure to check out the trail conditions by visiting The Crow Wing County Snowmobile Association's trail reports. More information can be found here. Club Trail Condition Reports – Brainerd Lakes Area Snowmobile Trails 
Private landowners allow snowmobiling on their private property, as some of the trail system goes through it. Trespassing could be detrimental to future trail use. It is important to stay on the trails and know where you can go, ahead of time. 
Click a map below to view 
What to Wear 
Riding is more fun when you are warm! Dressing in layers is so important when riding a snowmobile. Wear warm boots, gloves or mittens, a neck warmer and a quality jacket and bibs. A DOT-approved helmet should also be worn. 
Permits 
Keep in mind for your Minnesota snowmobiling vacation, that a permit is required for everyone operating a snowmobile on state or grant-in-aid trails. You can obtain a Minnesota snowmobiling permit from the Department of Natural Resources by calling 1-888-665-4236 or order one online, Snowmobile state trail sticker | Minnesota DNR 
Rentals  
Want to get in on the fun but do not have a machine of your own? Some locations in the Brainerd & Baxter areas offer snowmobile rentals.  
Snowmobiling Clubs 
Being part of a snowmobiling club is a wonderful way to learn the safety precautions and sled advancements of snowmobiles and enjoy the social aspects associated with club rides and events. The Crow Wing County Snowmobile Trails Association (CWCSTA) consists of 12 snowmobile clubs in Crow Wing and Southern Cass Counties. These 12 clubs include; Bay Lake Sno-Packers, Baxter Snowmobile Club, Brainerd Snodeos, Emily/Outing Snowbirds, Fort Ripley Trail Busters, Garrison Commercial Club, Gull Lake Drifters, Ideal SnoPros, Merrifield Marathons, Pequot Lakes Brush Pilots, Ponto knight Riders and the Sno-serpents Snowmobile Club. The clubs represent approximately 700 club members who are responsible for clearing and maintaining the miles of trails, driving and maintaining grooming equipment, managing finances of the clubs, participating in many club events, creating trail maps, working with landowners to allow private land access for trails, work with DNR and other local agencies to ensure the health of the sport. These dedicated volunteers play key roles in helping our snowmobile trail system exist! 
Interested in joining a club? Find more information here, Join a Club – Brainerd Lakes Area Snowmobile Trails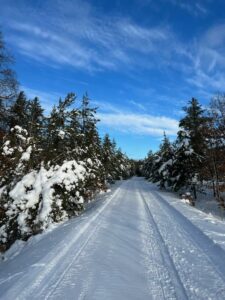 Snowmobile Safety 
Do not ride in adverse weather conditions. It is important to check trail and weather conditions ahead of your trip. For more snowmobile safety information visit Snowmobile safety tips | Minnesota DNR (state.mn.us) 
Your Brainerd snowmobiling adventure is sure to be filled with fun and convenience. There are plenty of service stations for gas, food, hot coffee, and food supplies. Stop in one of the many snowmobile friendly towns along the route for a hot meal or some fabulous shopping! Brainerd, Baxter, and the Brainerd Lakes Area truly are Minnesota's winter playground!