The Brainerd & Baxter areas are continuously growing! Fun, new dining and drink experiences are popping up around the area. We have compiled a list of new things that are happening in the dining and beverage industry in the Brainerd Lakes Area. Some have opened already, and some will be here this summer! 
Dining
Blaze Pizza – Step inside Blaze Pizza and you will immediately crave their delicious pizza. Step up to the assembly line to choose your fresh pizza ingredients. Enjoy the outdoors while sitting on their patio with a glass of wine, beer, or soda. Blaze Pizza believes in eco-friendly packaging and fresh ingredients through fresh dough made in house every day and recyclable, compostable packaging made from post-consumer reclaimed materials. Check out their new location on Highway 371 in Baxter. 
Baia Della – This Italian inspired kitchen, in the heart of Baxter, MN is an experience you won't want to miss. You will find a full menu of mouth-watering pasta options, but you will also see familiar staples like flat bread pizzas and Bruschetta. And of course, no hardy Italian meal starts without salad and breadsticks. Baia Della also offers an extensive wine selection to pair with your Italian taste buds. They accommodate specific dietary requests. 
The Gas Can Bar and Grille – The Gas Can is the perfect place to grab a bite to eat! Located right next to the Brainerd International Raceway and Nitro Square on North Highway 371. The Gas Can offers a large menu including breakfast options, appetizers, burgers, sandwiches, salads and more. Some unique menu options include the Bleu Burger, Prime Rib Melt and Porky Melt. 
Dunmire's – A second Dunmire's location will be taking over the spot previously known as the Northern Cowboy on Highway 371! Dunmire's offers an extensive menu with some options including appetizers, burgers, pastas, street tacos, gyros, and so much more. They often host many events, volleyball tournaments and live music. Stay tuned for their opening date!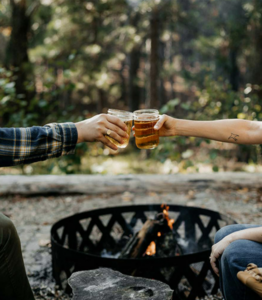 Drinks
Woodlore Cider – Coming soon, this summer, we are excited to welcome Woodlore Cider to the Brainerd Lakes Area! Woodlore Cider is a small cidery dedicated to crafting top-quality hard cider. From the orchard to the glass. It was created with the adventurer in mind. It is made for the hikers, the campers, the folks traveling deep into the wilderness and to the tops of the mountains. Find them on North highway 371.
Midtown Nutrition – Located on Washington Street, next to the Historic Brainerd Water Tower is Midtown Nutrition. They offer Protein Shakes, Energizing Teas, Wellness goals and so much more. Be sure to stop in to try one of their unique protein shake and tea flavors – some including Fruity Pebbles, Cookie Monster, and Deep Fried Oreo.
Fast Food
Jimmy Johns – A second Jimmy John's just opened on Highway 371 in Baxter. Who doesn't love a "freaky fast" and delicious sandwich? Drive-thru, delivery or pick up is available at this location. Enjoy a sandwich with fresh vegetables, hand-sliced cheese and meats and fresh-baked bread.  
Caribou Coffee – On highway 210 in Brainerd, Caribou Coffee has added a new location. Enjoy delicious hand-crafted beverages to all-day breakfast. Also, stock up on their small batch roasted coffee beans and limited time offerings.