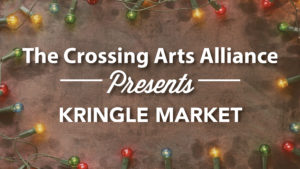 Brainerd, MN – Crossing Arts Presents Kringle Market
Kringle Market is now open, and we invite you to join us for a fun holiday shopping experience!
Enjoy shopping in our Gallery & Gift Shop, with an amazing selection of artist-created art and fine craft, art supplies, holiday gifts, and so much more! Kringle Market runs through December 24th, Tues – Fri, 10-5 and Saturdays, 10-2.
Private shopping is available and open to anyone throughout Kringle, Tues – Fri, 5-6. Spots can be reserved for up to 9 people per group, only one group per reservation (groups can be just one person). Give us a call to reserve your spot!
The number of people in our space will be limited to 12. Social distancing guidelines will be in effect, and masks will be required at all times.
For more information contact Crossing Arts at 218-833-0416, info@crossingarts.org. Crossing Arts is a 501c3 nonprofit located in the heart of downtown Brainerd at 711 Laurel Street.