Four Sea's Super Buffet
At Brainerd Four Seas Super Buffet's Chinese restaurant you will find a wide variety of traditional Chinese cuisine, including sweet and sour chicken and fried rice.
No need to gussy up for a trip to Four Seas Super Buffet, where patrons dress for comfort and fun.
Take your vehicle to dinner – nearby parking is plentiful and will not pose a problem for drivers looking to dine.
Four Seas Super Buffet is making the best of both worlds happen: creating food that is full of flavor and affordable! Discover the tastes and trends of China at Four Seas Super Buffet and enjoy a traditional Chinese dish or two.
417 8th Avenue NortheastBrainerd, MN 56401
Photos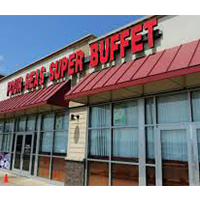 ---
Sunday
10:30 am - 9:30 pm
Tuesday
10:30 am - 9:30 pm
Wednesday
10:30 am - 9:30 pm
Thursday
10:30 am - 9:30 pm
Friday
10:30 am - 9:30 pm
Saturday
10:30 am - 9:30 pm